Lamination complements and is often required as part of overall print embellishment and shops without film lamination capability are finding it hard to compete as print consumer demands change. 
If you're looking for a new laminator, here are a couple of things you should think about. The last 4 apply to all the machinery in your shop and are important points to consider.
The films you're running
Depending on the film types and thicknesses you're running, some laminators won't work for you. The major difference here is the way the sheets are separated. Some laminators, such as the PODTopic series, have a flying knife, which makes it perfect for running and effectively separating thick and hard-to-burst films such as PETpro (polyester) and NYpro (nylon). The Bagel Systems line on the other hand is optimized for thin-gauge films and utilizes the bursting method. This means that it can run at significantly higher speeds because there's no mechanical limitation. 
Embellishment processes
The embellishment processes that you're using on your print can also determine the laminator that you choose. For example, if you're running SLEEKpro digital foil and spot embellishments, you'll need to make sure the laminator has a take-up mandrel to rewind the scrap from this process. 
If you're using spot UV on your prints, we've found that most spot UV applications benefit tremendously from using a thin-gauge laminate as the base layer. Our SOFTpro laminate film is a popular choice for this because of the luxurious edge that it adds to the piece and its dyne level means that it does well with accepting spot UV effects.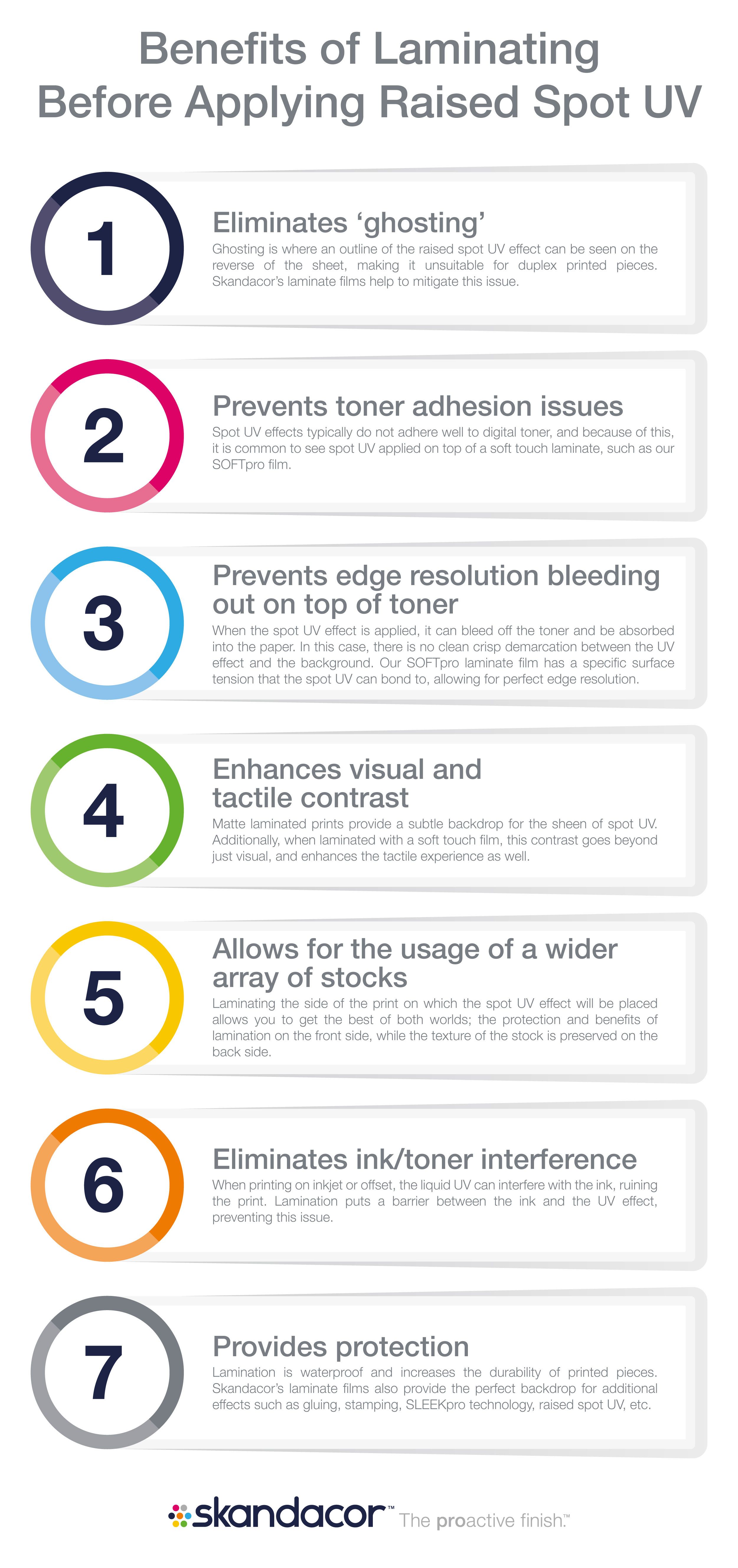 The applications you're running
Are you typically running single-sided or 2-sided applications? Traditionally, thin-gauge applications were done by flipping and turning, but advancements in technology have allowed us to use specialty laminators to do both sides at once. 
So a general rule of thumb is:
If the majority of your applications are single-sided, you'll want to look for a chrome/rubber roller combination to give you the best results. You can check out our single-sided laminators here. 

If you're running mostly 2-sided applications and perhaps some encapsulation, you'll want to look for rubber/rubber roller combinations as they offer the best option for sealing the edges of your laminated pieces when you're doing encapsulation. 
Another thing to consider in this regard is sheet-to-sheet vs roll-to-roll. The Minilam Duplex by Bagel Systems allows users to do both sheet-to-sheet and roll-to-roll lamination, making it a great option for print shops looking for a versatile machine. The ability to apply specialty finishes such as digital foils and coatings to applications such as labels and packaging is another differentiator as progressive printers look for ways to differentiate themselves from the competition.
The benefit of automation
Automation is one of the primary drivers for print shops looking to upgrade. Time is money, and print shop owners are looking for ways to do more with less. Instead of employees doing hand-fed sheet feeding and sheet separation, effective automation puts you in control of where you and your employees' time is best spent and most valuable to your print business' bottom line. 
Space constraints
Real estate isn't cheap, and if space is already an issue in your shop, you may want to look at a compact, versatile machine that can do multiple jobs. E.g. a machine that can run both your lamination and foiling, rather than two separate units for each job.
The PODTopic series is a great example of this. It's our most compact unit, with a footprint of only 67" x 29", and can do single-sided lamination and specialty finishing, including sleeking. 
The Workforce
The Great Retirement means that an aging workforce is being replaced by younger digital-first workers, and skilled labor shortages are on the rise. And where experienced operators were more familiar with mechanical equipment, the younger generation is more familiar with touchscreens, making easy-to-use machinery a must. A popular feature of Skandacor's commercial lineup is automation, allowing machines to be started with just one button, as well as graphical icon-based user interfaces with touchscreens that make job setup and operation intuitive. This is key as it cuts down on operator training time and gives younger operators a more relatable machine interface.
Downtime
It's not something that's typically addressed when you're considering a new machine, but downtime is an important factor. Besides being difficult to find operators for, older mechanical machines tend to break down faster and are harder to maintain. And that won't do in the face of rising customer expectations around fast turn times and high print quality. A newer, automated machine puts you in a better position to satisfy your print customers without the worry of it breaking down. 
And if you really never want to ever be in the position where your machine is down and jobs are waiting on it, you can check out our range of proSUPPORT plans.
The key is to make sure that you choose a laminator that aligns with your plans for future growth in your print business, and we can help with that. Contact our sales team at sales@skandacor.com, or give us a call at 1.888.820.9020 and we'll be in touch with you.